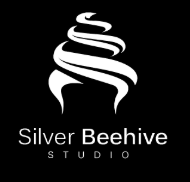 The Silver Beehive Logo Contest!
Yes, I know, I am an artist and I should be able to design my own studio logo!
Well.... when it comes to graphic design,  I struggle.  I drew many versions of the Maine Sugarworks (our soon-to-be-closed maple syrup company) logo but could never quite complete the project.  I design in wax and metal all the time but somehow a logo is different (in my mind anyway).
So I went looking for a way to get help. I quickly found 99Design.  It is a service that connects designers and clients in a 'contest' format.  You decide what you are looking for in a logo and pay them $300 (most of which the winning designer gets).  They use their network to put the word out and facilitate the contest. 
This was my brief to the designers:
"We make handmade cast silver jewelry.  Mostly rings and earrings.  The Silver Beehive Studio is inspired by the beehive hairdo (google it) as in the B-52's punk rock band.   I like the idea of a B&W logo that includes the (realistic or abstracted) flowing lines and curves of a beehive hairdo."
Two weeks after I started the contest, I had 97 logo designs from 25 talented designers from ALL OVER the world!  I then selected my top 5 designs, and had 2 weeks to work with these designers asking for revisions and tweaking. 
After reaching out to family and friends for feedback (thank you ALL for that, it was VERY helpful to hear your thinking and ideas), I selected this design for the new studio:
This design by artist
Don Mare
 is the new logo because: 
 1. I think this image will look very cool stamped into the inside of a silver ring shank or other cast design. 2. the 'ray gun' kind of image is similar to some of the designs I have created in wax and metal. 3. It really speaks to me!
Now I'm one step closer to launching the Silver Beehive Studio!
If you subscribe to my blog, you will get an update once or twice a month.
Thanks for your support!
Best
Mit
---