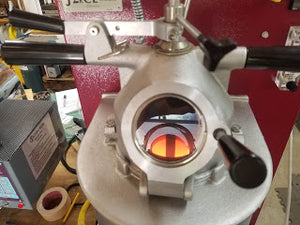 The New Casting Machine and Burnout Kiln are Up and Running!
The vacuum casting setup I have been using has some increasingly frustrating disadvantages.
 I was only able to cast about 40 rings in a session
 the casting quality was not very good, at best about 75% success rate
 Lack of control over many of the most essential casting variables  (accurate temperatures and casting atmosphere)
Pouring molten silver into a flask like this allows oxygen and temperature variables to cause a number of problems with the finished castings.
So I went looking for an upgrade solution.

I found it in the Neutec J2R casting machine.
This is an amazing piece of technology, it really blew me away when I first read about it.  They are over $7000 new and I thought it was simply out of reach for me at the time but last March I found one at auction on E-Bay and got the winning bid!!!! 
 In June we drove to North Carolina to pick it up, (we also visited Asheville NC, which was amazing).
The advantages of the J2R Casting Machine over my previous system are:
metal melting and casting happens in an oxygen free environment (nitrogen atmosphere)
able to use perforated flasks for better vacuum at all points in the flask
can handle much larger flasks (up to 4" x 9") 
I am now able to cast MUCH larger amounts of rings, hundreds of rings in well under 2 hours!
control: the J2R allows for very accurate control of the casting metal temperature because the temperature probe is inside the metal pool in the crucible.
Shot of the crucible nearing casting temperature.  Behind this glass door is a nitrogen atmosphere which eliminates a number of pesky issues that oxygen causes.
Of course things like this are never as simple as you plan.  In order to be able to handle larger and higher numbers of flasks (that contain the jewelry molds), I needed a larger burnout kiln.  The kiln needs high quality ventilation and new circuits wired. The casting machine requires a nitrogen system and a higher volume vacuum system, another electrical circuit, and more.  Bottom line, it took all summer to line up, install and test fire all components of the new system.
Here is the new burnout kiln and power vent that exhausts the burnout gases. This vent hood with aluminum foil skirt has since been upgraded to a larger custom fabricated stainless hood.
This equipment upgrade was a HUGE step closer to being ready to handle large online retail and wholesale jewelry orders. 
If you would like to continue to hear about the Silver Beehive Studio journey, please subscribe to my mailing list.  I try to post every 2 weeks, and I will NEVER share your address with others. 
Have a great week!
Mit
---
1 comment