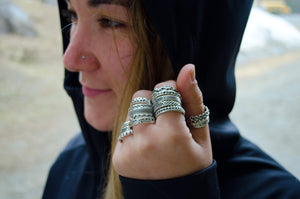 The First Photo Shoot and More!
Holy cow things moving quickly right now!
The web site is taking shape and moving closer to presenting a unified & functional image of the business.
I have been testing the new tumbler finishing/polishing set up in the studio, and it is exceeding expectations.  It has eliminated some time-consuming parts of the finishing process allowing me to zero in on the most important finishing steps.
I contracted the services of a freelance product description writer (yes there is such a thing!) on Fiverr.  She lives in Italy and collaborates well with us, which has been a big help.
Finally, I hired a model and a production assistant to help me create images of the Archetype Collection shown on human hands.  Brooke agreed to be my first model and in a 60-minute photo shoot, we created some great stuff!
Brooke was awesome at suggesting new poses and ways to show off the work.
 Fortunately, it was an overcast day which is great light to work with until….. It started to rain!
Kari was my photo assistant helping keep the jewelry organized and holding the reflector, essential roles really. 
As expected, I learned a lot from the process and have some changes for the next shoot.
The designer needs to be free to work with the jewelry and the model and to act as a director, this cannot happen from behind the camera.

To look good, I need to make rings that fit the model's finger size, you can tell when we used an oversize ring.

Having an assistant to manage the reflector and troubleshoot was great.

Doing your homework and planning ahead of time (shots you need, groupings that work best, etc.) is essential to an efficient shoot. 
I need to master this system because I plan to release 4 collections per year which is a hefty shooting and post-processing schedule.  
I wish I got a shot of us working, it was awesome.
Thanks again to Brooke and Kari!
---
1 comment