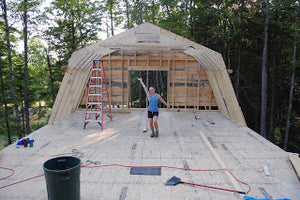 My First SIlver Beehive Studio Blog Post!!!!

Named after a beehive hairdo, the Silver Beehive Studio is a tip-of-the hat to my favorite music group the B-52s!

Construction of the Silver Beehive Studio began next to our home, here in rural Western Maine, in the summer of 2014.  My daughter Ivy and I poured the slab and framed it the summer before she went off to college.
In 2016 I finished the first studio space in the barn.  My own personal art room, a warm, bright, quiet, creative space designed for making art... heaven!
I began by reviewing years of ideas in dozens of sketchbooks to decide in which direction I wanted to work first. 
I concentrated on drawing and sculpture for a short time but soon gravitated back to jewelry, a medium I have loved since I took my first metalsmithing class in college in the 80's. 
Working with wax to work with metal?  I cast my first silver ring in 1986.  I have been hooked on the process ever since.  Using the 'lost wax' technique, begins by making a detailed accurate model of the design you want, in wax.  Next the wax model is invested in a wet plaster-like material that is then placed in a kiln and 'burned out' to create a hollow mold of the design.  Molten metal is then poured in the mold, and finished to create the final silver piece.
I love working with wax and found objects to achieve interesting textures and forms.  
---