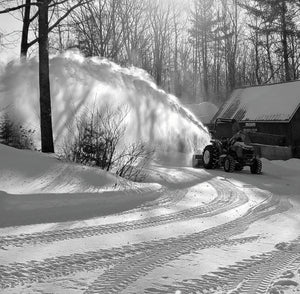 Mid-Winter Social Media Break and Studio Construction
After completing the grueling 100-Day project, '100 Unwearable Rings of 2020' on January 1, I temporarily 'checked out' of social media content production.  I must say it has been a delightful winter break! 
I took the time to chill out a bit, to step away from the mandatory creative demands of making a ring a day (after teaching all day) and to enjoy winter living in rural Maine a bit. We finally have some snow to work with, so snowshoeing and snowmobiling have become part of the routine. 
My studio is divided into 2 rooms. The 12' x 24' Art Studio where I do the creative waxwork was finished 3.5 years ago.  It's a superinsulated space finished in drywall and painted white.  The Production Studio, located next door in the same building, is twice as large and for the past 12 months has slowly converted into a second fully insulated and climate controlled space.  This is the room where my casting machine, burnout kiln, and many finishing tools and equipment live. 
In January and February, I insulated, wired, sheathed, and painted (almost) all of the remaining  walls that make the production studio.  I LOVE building, and this time of construction trades was a welcome break from the focused creative work of 2020. 
Once the wall was finished, I began laying out and installing a french cleat system.  This system has angled slats of plywood mounted to the wall that corresponding angled cleats fit into.  Each cleat is designed to hold a different tool. This allows for a very strong and versatile storage system that is easily modified.  It is an amazing system that has vastly improved shop efficiency. 
After this welcomed construction break I am refreshed and ready to get back to the creative work in the studio. Thank you for your continued interest and support in my work!  I have some ideas about where I would like to head next, more to come soon!
-Mit
---